"It challenges the glutes making them fire. This is your base and key for keeping the lower back strong."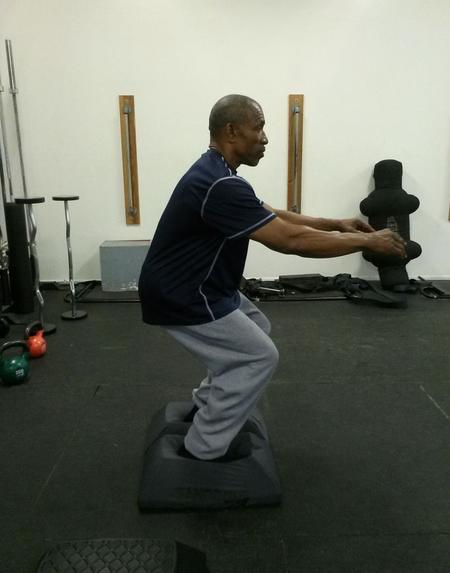 Former NFL Pro Cornerback Lucious Irvin Smith of Lou's Training Systems. Lou is no stranger to sports performance training and rehabilitation. Utilizing SANDDUNE™ after his 2nd hip replacement surgery, Lou was positively influenced with the lower body strengthening it delivered in a short period of time with consistent use.
Lucious Irvin Smith, better known as Lou, is no stranger to sports performance training. He has been helping athletes unleash their athletic potential for over 25 years. Some of his clientele have consisted of professional athletes from all sports, olympians, collegiate & high school athletes, and even all the way down to little kid athletes.
It's second to non how much Lou enjoys helping his clients get bigger, stronger, faster, and more importantly, way more athletic. Lou gets athletes to the next level. Period. Whether you're a high school player looking to make the varsity team, a varsity player looking to get a college scholarship, or a college player looking to go pro, Lou is the guy for you.
The National Football League
Lucious Irvin Smith is a former 6-year American football cornerback in the National Football League. He was signed by the Los Angeles Rams as an undrafted free agent in 1980 and also played for the KC Chiefs and San Diego Chargers.
[Lucious Smith NFL Chargers and Rams]
Education
Lou was born in Columbus, Georgia and was a walk-on athlete (later receiving a scholarship) at Cal State Fullerton & San Diego State. He completed his Master's Degree at Azusa Pacific and is a Master Certified Fitness Trainer from the Cooper Institute in Dallas, Texas. The Cooper Institute's approach is diverse and focuses on advancing preventive health practices for children and adults.
Lou also had the opportunity to work with world class trainers, learning all the "in the trenches" techniques that actually work to excel athletes in their particular sport. Along the way, Lou has also developed some more modern and athletic training secrets of his own that have propelled him to working with some of the best athletes on the planet.
And beyond
In his 40′s, Lou decided to learn martial arts. He has a Black Belt in combat Judo, Eskrido, and Tae Kwon Do and a Brown Belt in Brazilian Jui Jitsu. Lou won the gold medal for Brazilian Jui Jitsu at the American/Pan Am competitions.
Lou's Training Systems
In 1998, Lou opened his gym called Lou's Training Systems in Anaheim where he trains a wide range of athletes from MMA fighters, football players, basketball players, swimmers, and even ballerinas. He also set up a youth foundation called Lil' Lou's.