What is the SandDune Stepper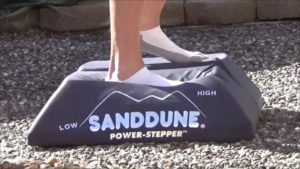 The Sanddune Stepper is a new "balance pad system" designed specifically to treat foot, ankle, knee, hip and lower back pain.  It is a simple exercise and rehabilitative method for fitness enhancement and general well-being.
It is made from a combination of memory and closed cell foam (polyurethane foam blend) with a combination of two separate platforms, angled with a slight pitch for independent training, rehabilitation, and dynamic movements.
The Sanddune Stepper is a low impact tool that would be similar to walking on sand beach with an immediate bounce back effect.  Perfect for rehabilitation after surgery, debilitating diseases and/or for sports injury recovery.   It is also great for pre-warmup before a walk, riding your bike, before jogging or lifting weights at the gym.
Many uses include lower and upper body rotations and movements for conditioning workouts and recovery. The Sanddune Stepper has also proven itself to help those with neurological disorders such as Parkinson's disease with low impact body movements.
Different ways to use the Sanddune stepper:
Improved Motor Skills
Gentle Padding Warm Up… Cardio Burst Opportunity
Strong Core…Improved Grace and Balance
High Frequency Contractions
After surgery rehabilitation (hip, knee, ankle & foot)
Improved Motor Skills
Gentle Padding Warm Up… Cardio Burst Opportunity
Strong Core…Improved Grace and Balance
High Frequency Contractions
After surgery rehabilitation (hip, knee, ankle & foot)
Specifications:
Portable: Carrying Bag and antibacterial cover
Weight: 12.5 lbs
Color: Black
Length: 22"
Width 26"
Height: 6"
To Purchase the Sanddune Stepper: